About Miller Custom Homes, Inc.
Why Miller Custom Homes?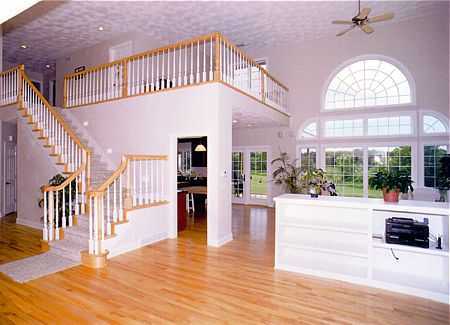 With over 40 years experience building new and custom homes for people, we have the knowledge, expertise and attention to detail that our customers demand in their homes. We can help design and build your custom home, remodel your existing home or construct any addition, finished basement or sunroom you desire.
The definition for the word "teamwork" has been taken to a new level by Dan and Jim Miller, owners of Miller Custom Homes, Inc. of Sun Prairie, WI. When these brothers combined to take over the family business, their father, Russ, made one suggestion: "To help keep your working relationship running smoothly, why don't you each run your own project." The two sons were reluctant at first, but now realize the wisdom of their father's suggestion. They both enjoyed working along with their dad in their youth. Dan found the decision of his vocation very easy. After completion of school, he continued as a home builder in the family business. But Jim at this time had a keen interest in aviation and wanted to pursue that. He joined the military and after four years in the service and three more years in college and working on planes, he decided to return home and go into business with his brother Dan, since his dad had retired.
Miller Custom Homes, Inc. strives for "happy," satisfied customers. They feel strongly about the important role they play in building more than just a home for their clients. They feel they are creating an environment where parents raise their children. Being a part of this process gives them a great sense of satisfaction.
Jim Miller's family consists of his wife, Diana, and children Rachael, Sierra and Lucas. He still loves aviation and completed building a small, speedy RV8 airplane. He worked on it for four-and-a-half years and flies it to Lakeland FL, and Oshkosh WI annually.
Dan and his wife, Jennifer, enjoy boating and relaxing at their cabin on Lake Wisconsin. Dan says his number-one hobby is really building homes as that is his passion, but he also likes to go bow hunting, as well as boating and fishing, to put some balance in his life.
Yes, Miller Custom Homes, Inc. was founded by a master of the trade and this "know-how" and skill have been passed on to two very talented and capable sons. Because of the extraordinary teamwork in this company, the torch has been passed on and continues to burn brightly. When you work with these two partners, Dan and Jim Miller, there's no pretense or false airs. What you see is what you get and that amounts to an abundance of outstanding work.
Contact or call Miller Custom Homes, Inc. TODAY at (608) 576-6080 or (608) 576-6077 for a FREE in-home consultation. You have nothing to lose, and you will likely find the Home of Your Dreams!